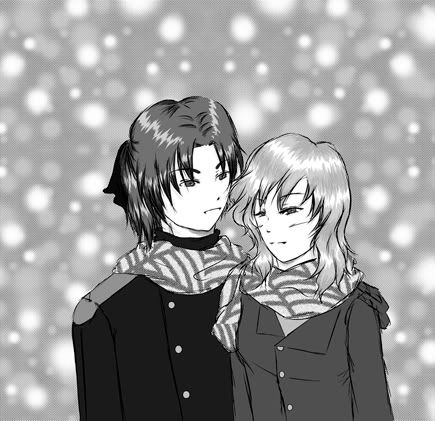 南美家的冬天是六七八月,不過就算是夏天的十二月,靠南的部份還是很冷。
下面是附贈性質的文,不過因為我懶得翻譯了,所以請就英文將就著看吧。(爆)
"Wait a minute here!"
Both Ursula and Pablo turned and saw their brother (half plus in-law to Pablo) waving a paper furiously.
"What's the matter, Martin? Trouble with what you've found?"
"That's exactly what I'm talking about! What the hell is this?"
Ursula snatched the paper from Martin's hand before he has anymore chance to destroy it, then smiled when she saw what was on the paper―or correctly described, the photo.
"It was taken in the short trip Pablo and I had back in the winter, remember?"
"No! NOT AT ALL!!!" Martin exclaimed with anger, "You didn't even bother to mention this to me!"
"Oh, I must had forgotten to mention then. Would you please forgive me,
big brother
?"
Martin stared at this little sister of his, whose smile looked too bright to be true, then his temper went off. Not to Ursula, but to Pablo who stood nearby.
"Pablo, how dare of you――"
And the rest of the sentence vanished in the air as Ursula pulled the curl Martin had by the right side of his hair that was identical to hers. She then turned towards Pablo, who was covering his ears from the soundless scream Martin made.
"So, Pablo dear, would you please go and get Mr. Luciano over here? I think this big brother of mine would like to have someone walk him home."
"My lady, it's my pleasure to do so."
If his erogenous zone was not in his sister's hand, Martin was sure that he would loved to pound Pablo's face some more. Damn, he was smiling when he walked out the room......